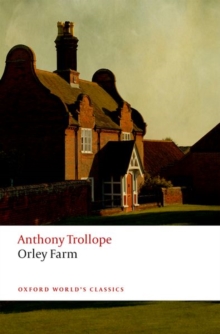 Orley Farm (New edition.)
0198803745 / 9780198803744
There was a power of endurance about her, and a courage that was almost awful. Did Lady Mason forge a codicil to her husband's will, allowing Orley Farm to pass to her son or not? Orley Farm centres on this case of forgery, and the anguish and guilt of Lady Mason.
Surrounding this enigmatic woman and her apparent crime are her elderly lover, Sir Peregrine Orme; her principled but thoughtless son, Lucius; and, not least, a group of determined lawyers. Orley Farm contains the plot with which Trollope was most pleased.
Drawing on family experience of the loss of an inheritance, the novel tackles the tremendous question of property fraud.
The result, as George Orwell observed, is one of the most brilliant novels about a law suit in English fiction. Orley Farm dates from a confident period of its authoras life.
It breathes an air of writerly assurance, with Trollope at the height of his competitiveness with Dickens.
Inthis work Trollope claims the Victorian legal novel as his own.
BIC:
3JH c 1800 to c 1900, DSBF Literary studies: c 1800 to c 1900 , FC Classic fiction (pre c 1945)