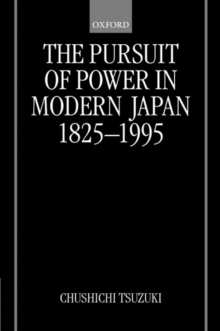 The pursuit of power in modern Japan, 1825-1995
0198205899 / 9780198205890
This new history of modern Japan covers its remarkable transformation from a small country on the fringe of international politics to the major world power it is today.
Professor Tsuzuki traces Japan's pursuit of power, first by military and then by economic means, from her attempts to replace China at the centre of the Confucian Middle Kingdom; through the Meiji nationalist response to the inroads of nineteenth century western imperialism; and on to the post-war USJapanese alliance powering the economic miracle of the last half of the twentieth century.
He examines Japan's political, intellectual, and industrial development throughout the last two centuries, with special attention to the wars that were fought, and argues that the history of Japan's modernization was closely linked to the growth of Japan's own imperialism.
Tsuzuki goes on to reveal how some of the factors which contributed to remaking Japan as an economic giant have also been responsible for her recent economic and political difficulties.
BIC:
1FPJ Japan, 3JH c 1800 to c 1900, 3JJ 20th century, HBJF Asian history, HBLL Modern history to 20th century: c 1700 to c 1900, HBLW 20th century history: c 1900 to c 2000