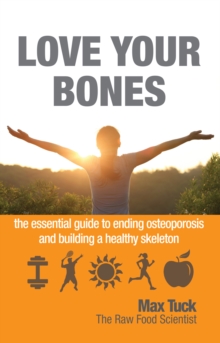 Love Your Bones : The Essential Guide to Ending Osteoporosis and Building a Healthy Skeleton
1781610711 / 9781781610718
Millions of women and increasing numbers of men worldwide are suffering the pain and debility associated with osteoporosis.
For the 1 in 3 women over age 65 already affected by the disease, the cost in both financial and personal terms is astronomical.
In this thought-provoking book, Max Tuck shows not only how we can prevent bone loss but also how we can rebuild bone density, giving detailed guidance on how to do this, including essential specific exercises.
Based on proven science, the latest technological developments, a passion for nutritious food and her long experience as a Health Educator and Veterinary Surgeon, Max's comprehensive action plan will enable you to slash your fracture risk and improve your health, even into advanced age.
With an easy to follow and entertaining writing style, she provides new hope and inspiration for a stronger and more vibrant future.
BIC: