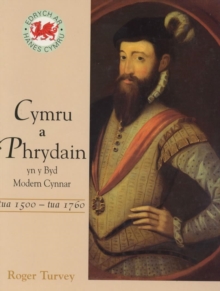 Cymru a Phrydain yn y Byd Modern Cynnar tua 1500-tua 1760 (Welsh language e.)
0340643498 / 9780340643495
Usually dispatched within 4 weeks
277 x 214 mm, 265 grams 80 pages, colour photographs, colour line illustrations
This is part of a series on Welsh history which has been written specifically to meet the requirements for History in the National Curriculum for Wales at Key Stage 3.
This title specifically supports the teaching of Study Unit 2 of the Key Stage 3 Programme of Study.
As with the other two titles in the series, Welsh and English medium editions have been published simultaneously. All three books in the series offer a mix of narrative history covering political, economic, social and cultural themes.
The text is fully supported with both primary and secondary material, and also includes pupil questions and activities. An English edition of this book is available under the title "Wales and Britain in the Early Modern World c1500-c1760", by the same author.
BIC:
1DBK United Kingdom, Great Britain, 2AFW Welsh, 3JB c 1500 to c 1600, 3JD c 1600 to c 1700, 3JF c 1700 to c 1800, 4KHN For National Curriculum Key Stage 3, YQH Educational: History
* Variable discounts between 0% and 15% are applied to items where BBfS cannot determine exact discounts from suppliers.