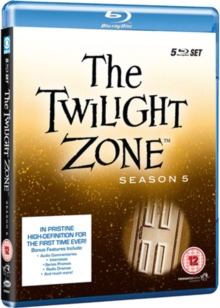 Twilight Zone - The Original Series: Season 5
Blu-ray (Blu-ray / Box Set)
(12) Suitable for 12 years and over.
The concluding fifth season of the classic American television sci-fi series by Rod Serling first shown in 1963/64.
In each episode of the Twilight Zone, an ordinary person finds himself in an extraordinary situation, where the laws of reality are suspended.
Almost every episode had a guest appearance by a big star of the day including here, William Shatner, Telly Savalas, Lee Mavin and Mickey Rooney.
Season five features episodes as follows; 'In Praise of Pip,' 'Steel,' 'Nightmare at 20,000 Feet,' 'A Kind of a Stopwatch,' 'The Last Night of a Jockey,' 'Living Doll,' 'The Old Man in the Cave,' 'Uncle Simon,' 'Probe 7, Over and Out,' 'The 7th Is Made Up of Phantoms,' 'Ninety Years Without Slumbering,' 'Ring-A-Ding Girl,' 'You Drive,' 'The Long Morrow,' 'The Self-Improvement of Salvadore Ross,' 'Number Twelve Looks Just Like You,' 'Black Leather Jackets' 'Night Call,' 'From Agne, With Love,' 'Spur of the Moment,' 'An Occurrence at Owl Creek Bridge,' 'Queen of the Nile,' 'What's in the Box,' 'The Masks,' 'I Am the Night, Color Me Black,' 'Sounds and Silences' 'Caesar and Me,' 'The Jeopardy Room,' 'Stopover in a Quiet Town,' 'The Encounter,' 'Mr. Garrity and the Graves,' 'The Brain Center at Whipple's,' 'Come Wander with Me,' 'The Fear' and 'The Bewitchin' Pool.,
Other Documentary: 'Submitted for Your Approval'