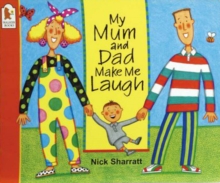 My mum and dad make me laugh
0744578485 / 9780744578485
38 x 46 cm [27]p. : chiefly col. ill.
Reprint. Originally published: 1994.
Mum is crazy about spots - from spotty clothes to spotty games like dominoes.
Dad loves all things stripy - stripy suits and ties and stripy humbug sweets.
When the family goes to the safari park, mum and dad find that their son also has an obsession - elephants!
BIC: