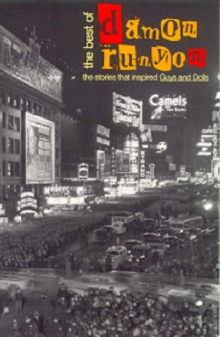 The best of Damon Runyon : the stories that inspired Guys and Dolls
0743435036 / 9780743435031
You're about to enter Runyonland-a world of gamblers, hustlers, misfits, and showgirls...some loveable, some not...the guys and dolls of New York's fabled Great White Way-Broadway in the 1930s and '40s.
Damon Runyon started as a poet, became a highly paid sportswriter and a war reporter, but he will always be known for the remarkable short stories he wrote that helped create and define the word "runyonesque." Using his reallife friendships with the high and low-lifes around Times Square, Runyon created a cynical, but dazzling, world that has been entertaining readers for almost 70 years, and was the basis for the fabled Broadway show, the legendary Guys and Dolls.
Here are 30 of Damon Runyon's most celebrated stories, introducing us to memorable characters such as Sky Masterson, Miss Sarah Brown, Little Pink, Dark Dolores, Dream Street Rose, and many others.
With wit, humor and insight, Damon Runyon created the world of "good time" New York, which may be a bygone era, but will live forever in the stories of The Best of Damon Runyon. - Guys and Dolls is performed over 1,000 times each year in theaters across the country.- Penguin/Putnam's Guys and Dolls: The Stories of Damon Runyon (trade paperback 14.95) has been a backlist standard for over nine years. - The Best of Damon Runyon has 25 stories not in the Penguin/Putnam collection, culled from Runyon's career.
These stories will be considered new by many of his fans since there is virtually no other short story collection available. - Even though he died in 1946, Damon Runyon has over 8,000 references on the web.
BIC: