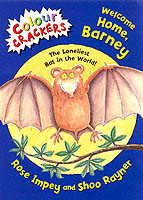 Welcome home, Barney : the loneliest bat in the world!
1841218820 / 9781841218823
Reprint. Originally published: 1995.
Welcome Home, Barney. The Loneliest Bat in the World! Barney the bat is lonely. His friends try to find him a mate, but with no success.
Then Barney thinks of a better way to pick the perfect partner.
We Want William! The Wisest Worm in the World! William is such a wise old worm, everyone comes to him for help.
But is William wise enough to save them all from The World Worm Charming Championship?
Funny lively stories, the perfect books for building reader confidence.
The pages are attractively designed with clear, easy-to-read type and fun colour illustrations throughout.
They include joke sections and come in a large, child-friendly format.
BIC: