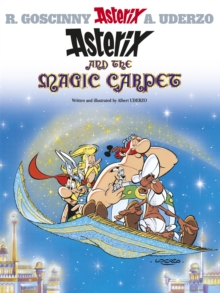 Asterix and the magic carpet
Part of the Asterix series
0752847155 / 9780752847153
Reprint. This translation originally published: London: Hodder Headline, 1988.
Special re-release to follow the first new Asterix adventure for 5 years Global sales of Asterix outstrip Harry Potter 11,000 websites devoted to Asterix Combined UK sales of the last 5 books - 2.2 million copies Over 300 million books sold worldwide
The little Gaulish village where Asterix and Obelix live has just one drawback - its bard is the worst musician in the entire ancient world.
When Cacofonix strikes up, his singing sends the sun behind clouds and makes rain begin to fall.
But that's just what they want in the distant Eastern kingdom of Rajah Watzit, where the guru Hoodunnit, with his sidekick Owzat, is threatening to end a terrible drought by sacrificing the lovely Princess Orinjade.
The fakir Watziznehm arrives by flying carpet to ask the Gauls for help - and just for once, after many adventures, Cacofonix can feel that his talents are properly appreciated.
BIC:
YFW Comic strip fiction / graphic novels (Children's / Teenage)