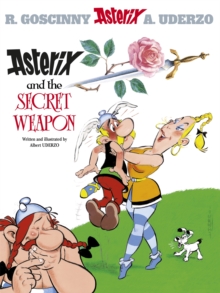 Asterix and the secret weapon
Part of the Asterix series
0752847775 / 9780752847771
Reprint. This translation originally published: London: Hodder Headline, 1991.
Special re-release to follow the first new Asterix adventure for 5 years Global sales of Asterix outstrip Harry Potter 11,000 websites devoted to Asterix Combined UK sales of the last 5 books - 2.2 million copies Over 300 million books sold worldwide
A woman bard is unheard-of in Ancient Gaul - but when the mothers in Asterix and Obelix's little village decide that besides being a terrible musician Cacofonix, the local bard and school-teacher, is not educating their children properly, it's Bravura they call in.
The men of the village are horrified at first, but Bravura proves a useful ally in countering Julius Caesar's secret weapon - the Roman leader has sent in a troop of female legionaries, relying on the chivalrous Gauls not to fight women.
But Bravura has no such scruples, and together with Asterix thinks up a good idea.
Even Cacofonix's music comes into its own ...
BIC:
5AH Interest age: from c 7 years, YFW Comic strip fiction / graphic novels (Children's / Teenage)