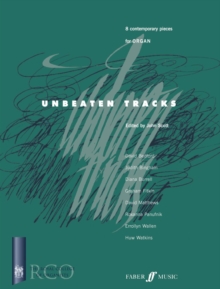 0571519776 / 9780571519774
Usually dispatched within 2 weeks
229 x 305 mm, 195 grams 48 pages
The Unbeaten Tracks series has made a profound mark on the music world with its volumes of specially commissioned pieces for intermediate-level players.
This new volume for organ continues in the same vein with a kaleidoscopic mix of pieces and styles.
In addition small 'Biopics' have been collected for each composer giving nuggets of information regarding inspiration, these are designed to give players a greater insight into the pieces.
Unbeaten Tracks for solo organ has been produced in association with the Royal College of Organists. **Trinity College London selected piece (Organ 2011-2012): Fragments I and II (Burrell)
BIC: