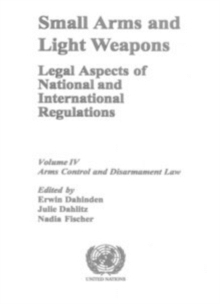 Small Arms and Light Weapons : Legal Aspects of National and International Regulations - A Contribution to the United Nations Conference on the Illicit Trade in Small Arms and Light Weapons in All Its - v. 4 : Arms Control and Disarmament Law
9211010462 / 9789211010466
Usually dispatched within 4 weeks
160 x 240 mm 239 pages, Illustrations
The fourth volume in the "Arms Control and Disarmament Law" series addresses the issue of small arms and light weapons from the legal point of view, presented at the seminar on Small Arms and Light Weapons: Legal Aspects of National and International Regulations.
There are over 600 million small arms and light weapons (SALW) in circulation worldwide.
Of 49 major conflicts in the 1990s, 47 were waged with small arms as the weapons of choice.
Small arms are responsible for over half a million deaths per year, including 300,000 in armed conflict and 200,000 more from homicides and suicides.
Multilateral co-operation in this area took a significant step forward when the United Nations Conference on the Illicit Traffic in Small Arms and Light Weapons in All Its Aspects was held from 9-20 July 2001 at UN Headquarters in New York.
The General Assembly, in its Resolution 56/24V, welcomed the adoption of the PoA and reiterated Member States' support for action to curb the illicit flow of small arms and light weapons.
BIC:
JPSF Arms negotiation & control, JWM Weapons & equipment, LB International law, LNTJ Public health & safety law
* Variable discounts between 0% and 15% are applied to items where BBfS cannot determine exact discounts from suppliers.