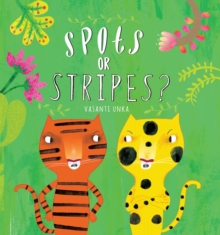 Spots or stripes?
1783705833 / 9781783705832
Stock expected by 18/04/2021
32 pages : chiefly illustrations (colour)
Tiger claims that stripes are best. Leopard insists that spots are tops. Their squabble turns into a quarrel; the quarrel becomes a battle; and, by lunchtime, the jungle is a complete mess. Monkey calls a meeting of the Jungle Council and all the animals put their heads together to come up with a plan.
Their cunningly stylish way of resolving matters will bring out the best in everyone . . . well, almost everyone. A gorgeously colourful, fabulously fashion-conscious and shrewdly funny new picture book.
BIC: