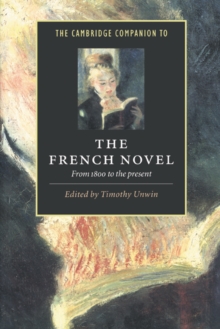 The Cambridge companion to the French novel : from 1800 to the present
0521499143 / 9780521499149
Usually dispatched within 4 weeks
general Learn More
research & professional
academic/professional/technical
This volume offers a unique and valuable insight into the novel in French over the past two centuries.
In a series of essays, acknowledged experts discuss a variety of topics including nineteenth-century realism, women and fiction, popular fiction, experiment and innovation, war and the Holocaust, the Francophone novel, and postmodern fiction.
They offer a challenging reassessment of major figures, while deliberately reading traditional views of literary history against the grain.
Theoretical discussion is combined with close reading of texts and exploration of context, comparison with other genres and other literatures, and reference to novels from earlier periods.
This companionable introduction includes a chronology and guide to further reading.
From it emerges a strong sense of the vitality and energy of the modern French novel, and of the debates surrounding it.
BIC:
1DDF France, 2ADF French, DSK Literary studies: fiction, novelists & prose writers