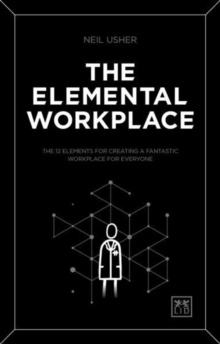 The elemental workplace : the 12 elements for creating a fantastic workplace for everyone
1911498649 / 9781911498643
The workplace has been on a journey, from machine-like rows of desks in the 50s to the private cubicles of the 70s, to the tech-inspired co-working spaces of the 2000s.
But workplaces aren't just about configuration. This book will help you create a fantastic workplace - The Elemental Workplace.
Everyone deserves a positive environment in which to live, learn, grow, share and contribute.
Its creation is intuitive and simple. This book is intended for everyone, whether managing a property portfolio or a project, owning or running a business, or just taking an interest in the workplace to which they are treated, or subject.
All corporate bullsh*t and buzzwords surgically removed.
As long as physical workspace is required, this book will remain relevant.
BIC: