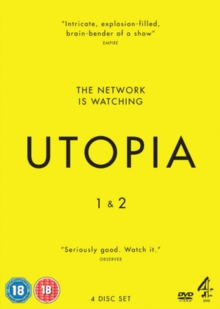 (18) Suitable for 18 years and over.
All episodes from the first two series of the Channel 4 conspiracy thriller starring Fiona O'Shaughnessy.
When a group of strangers who met on a comic book forum find they are somehow connected to each other through the plot of a legendary graphic novel, their lives become targets of a organisation known only as The Network.
Ian (Nathan Stewart-Jarrett), Becky (Alexandra Roach), Wilson (Adeel Akhtar) and Grant (Oliver Woollford) are in possession of the original manuscript for the novel and discover that The Network will go to great lengths to get the manuscript back.
As they find themselves being framed for crimes they did not commit, they must work together to fight off The Network.