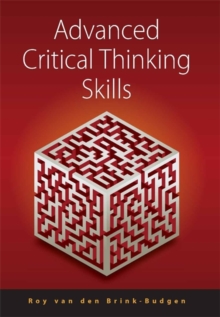 Advanced critical thinking skills
184528433X / 9781845284336
Usually dispatched within 4 weeks
This book takes the skills introduced in Roy van den Brink-Budgen's bestselling book Critical Thinking for Students and extends and builds on them.
As a result, it will be especially useful for students on advanced level courses, whether in schools, colleges, or universities.
It shows how complex arguments can be built up, analysed, and evaluated.
It also shows how the use of various types of claim can be approached in argument, by stressing the need to ask a series of questions about their possible significance.
The frequent role of explanation in the drawing of inference is also detailed.
In addition, it applies Critical Thinking skills to decision-making, showing how these skills can clarify the choices available, their possible consequences, and the criteria needed to make decisions.
In short, this book shows how to become an even more active and effective Critical Thinker. Preface; 1. The status of claims and inferences; 2. Clarity and meaning; 3. Decision making - choices and criteria; 4. Decision making - Relevance, inferences and consequences; 5.
Ethical aspects of decision making; 6. Looking for strength in arguments; Index.
BIC: