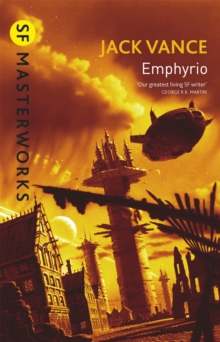 Emphyrio
185798885X / 9781857988857
Reprint. Originally published: Garden City, N.Y.; London: Doubleday, 1969.
* #19 in the Millennium SF Masterworks series, a library of the finest science fiction ever written * 'All Vance's novels have exotic locales and cultures, resourceful heroes and vigorous action, but in Emphyrio they are raised to the pitch of perfection, making the novel a tremendous pleasure to read, and giving it also a mysterious beauty' - Kim Stanley Robinson * 'Jack Vance is our greatest living SF writer, and Emphyrio is one of his very best books, a magical tour de force of mystery, marvel, invention, incident, world-building and wordplay. But be warned: reading Vance is addictive' - Ge
Far in the future, the craftsmen of the distant planet Halma create goods which are the wonder of the galaxy. But they know little of this. Their society is harshly regimented, its religion austere and unforgiving, and primitive -- to maintain standards, even the most basic use of automation is punishable by death.
When Amiante, a wood-carver, is executed for processing old documents with a camera, his son Ghyl rebels, and decides to bring down the system. To do so, he must first interpret the story of Emphyrio, an ancient hero of Halman legend.
BIC: