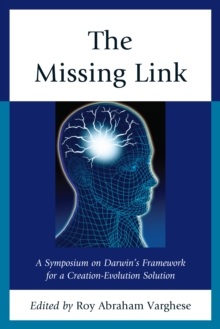 The Missing Link : A Symposium on Darwin's Creation-Evolution Solution
0761860649 / 9780761860648
Stock expected by 21/12/2019
152 x 232 mm, 417 grams 274 pages
The Missing Link blazes a unique trail through the conundrums and controversies generated by evolutionary theory and religious thought.
To date, these debates have centered on the origin of species.
This book, however, turns the spotlight on the origins of consciousness, thought, and the self while also considering the relationship between God and science.
Remarkably, Darwin himself highlighted the relevance of the origin of consciousness to the question of a creator.
Therefore, The Missing Link works within a framework that was laid out at the dawn of the creation-evolution debate.
Since that time, however, this framework has rarely been considered or explored.
The unifying theme of this volume is the conclusion that the existence of God is grounded in rational thought.
Contributors to The Missing Link include three Nobel Prize winners, renowned scientists from Oxford, Cambridge, and Harvard, and noted contemporary philosophers of consciousness, language, and the self.
BIC:
HRA Religion: general, HRAM3 Religion & science, HRCV Christian life & practice, JFS Social groups, PD Science: general issues