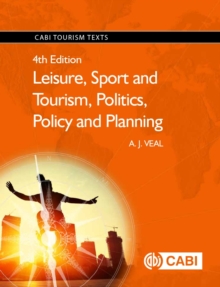 Leisure, sport and tourism, politics, policy and planning (4th edition)
1780648049 / 9781780648040
25 cm xvii, 421 pages : illustrations (black and white, and colour)
The gap between theory and practice in the leisure, sport and tourism studies areas seems to have widened as scholars have become more specialized.
Nevertheless, it is imperative that students be as familiar as possible with a wide range of social and political theory, and also be able to reconcile that knowledge with their own current and future roles as practicing professionals.
A comprehensive, multidisciplinary approach to public policymaking and planning in the leisure, sport and tourism sectors, this book: - examines the theoretical issues underpinning public sector policymaking such as political ideologies, leisure wants, needs, demand and benefits, and human rights in leisure, sport, tourism and culture; - discusses the debates surrounding the role of the state versus market, and models of organizational decision-making; and - uses applied sections addressing strategic planning and performance evaluation to provide a link between theory and practical analytical techniques.
As well as extensive updating of sources, this new edition examines such topics as libertarianism, theocracy, anti-establishment politics, and the concept of generations.
A new chapter presents discussions of a number of 'issues and challenges' facing the leisure, sport and tourism sector.
Introducing the subject for undergraduate and postgraduate students of leisure, sport and tourism, this book is also a useful addition to the shelf of any policy maker or practitioner within the industries.
BIC: