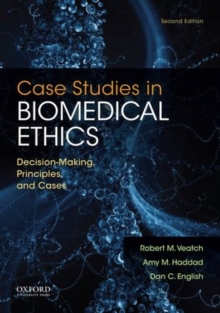 Case studies in biomedical ethics : decision-making, principles, and cases (Second edition)
0199946566 / 9780199946563
Stock expected by 09/04/2020
Professional & Vocational Learn More
Postgraduate, Research & Scholarly
The most comprehensive and up-to-date collection of its kind, Case Studies in Biomedical Ethics: Decision-Making, Principles, and Cases addresses the most critical and timely ethical issues in healthcare.
Drawing on over 100 case studies from current events, court cases, and physicians' experiences, the book is divided into three parts.
Part I presents a basic framework for ethical decision-making in healthcare, covering such issues as separating evaluative questionsfrom questions of fact; distinguishing between ethical and nonethical evaluations; and identifying the source of ethical judgments.
Expanding upon this framework, Part II explains the ethical principles: beneficence and nonmaleficence, justice, respect for autonomy, veracity, fidelity, and avoidanceof killing.
Parts I and II provide students with the background to analyze the ethical dilemmas presented in Part III, which features cases on a broad spectrum of issues including abortion, genetics, mental health, confidentiality, health insurance, experimentation on humans, the right to refuse treatment, and death and dying.
Each case is accompanied by the authors' commentary, which guides students in considering the issues. The new edition adds many new cases, including those at the forefront of public debate: Richard Norris (one of the first face transplant cases), The Hobby Lobby contraceptive insurance case (whether The Affordable Care Act should require employers to cover contraception and abortifacients), Terri Schiavo (the public controversy over withdrawing nutrition), and Sarah Murnaghan (the lung transplant case), and the SUPPORT study (the raging controversy over whether parents need to be informed of arandomization in the care of premature infants). Ideal for courses in biomedical ethics, bioethics, and medical ethics.
BIC: