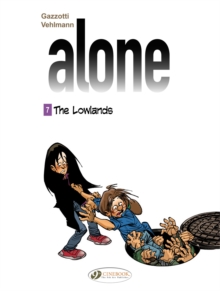 The lowlands
Part of the Alone ; 7 series
1849183473 / 9781849183475
29 cm 56 pages : chiefly illustrations (colour)
Translated from the French.
The cold war between the Campton group and Saul's clan has finally erupted into open warfare, but the increasingly strange events that affect the abandoned city eventually silence even the most bellicose instincts: the red zone is sinking into the ground, and all of the children, regardless of their allegiance, are now trapped inside the 'lowlands'.
Their only chance to get out is to work together - if it isn't already too late...
BIC: