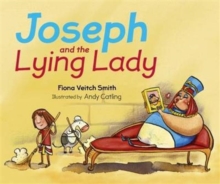 Joseph and the lying lady
0281074704 / 9780281074709
24 cm 1 volume (unpaged) : chiefly illustrations (colour)
Also issued in electronic format.
In the third book in the series, Joseph finds himself in Egypt and is sold to a very important man called Potiphar.
Potiphar is very busy and his servants are very lazy - as a result his house is a mess!
With the help of his ever-helpful cow companions, Joseph soon takes charge and has things spick-and-span in no time.
There's only one problem - and that is Mrs Potiphar, who is jealous of Joseph.
What scrapes will Joseph get into next?
BIC:
5AG Interest age: from c 6 years, YNRB Bibles & bible stories (Children's / Teenage)