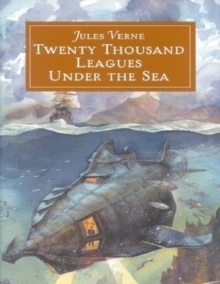 Twenty Thousand Leagues Under the Sea is a classic science fiction novel by writer Jules Verne.
It tells the story of Captain Nemo and his submarine Nautilus as seen from the perspective of Professor Pierre Aronnax.
A mysterious sea monster, theorized by some to be a giant narwhal, is sighted by ships of several nations; an ocean liner is also damaged by the creature.
The United States government finally assembles an expedition in New York City to track down and destroy the menace.
Professor Pierre Aronnax, a noted French marine biologist and narrator of the story, who happens to be in New York at the time and is a recognized expert in his field, is issued a last-minute invitation to join the expedition.
The rest of the story follows the adventures of the protagonists aboard the submarine, the Nautilus, which was built in secrecy and now roams the seas free of any land-based government.
Captain Nemo's motivation is implied to be both a scientific thirst for knowledge and a desire for revenge on civilization.
BIC: