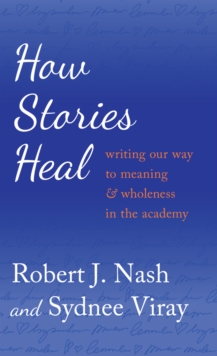 How Stories Heal : Writing our Way to Meaning and Wholeness in the Academy (New ed)
1433124831 / 9781433124839
150 x 230 mm, 420 grams 195 pages
It is time for academics to embrace the fact that nothing is more appealing to readers - especially to our students - than personal stories with meaning-making implications that can touch all lives.
No matter the age or stage in life, the personal or collective identity, everyone deals with meaning-making issues that challenge them - and others - throughout their lifetimes. And everyone we know finds that when encouraged to write their stories in the academy, they find meaning, wholeness, and healing. How Stories Heal illustrates the value of personal narrative writing.
Referring to this type of writing as the "turn to the subjective I" or to "me-search research", this is a book about Scholarly Personal Narrative (SPN) writing, actually written in an SPN style.
This book will satisfy a huge need in higher education and scholarship, particularly for students who are writing undergraduate and graduate theses and doctoral dissertations; and also for junior and senior faculty who are looking to construct alternative forms of scholarship for publication.
BIC:
HP Philosophy, JM Psychology, JNA Philosophy & theory of education, JNF Educational strategies & policy