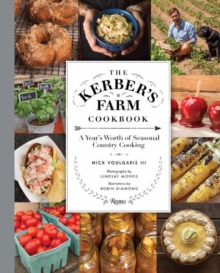 Kerber's Farm Cookbook : A Year's Worth of Seasonal Country Cooking
1599621541 / 9781599621548
191 x 238 mm 224 pages, 300 Colour and Black and White Photographs
Kerber s Farm is a seventy-five-year-old farm, roadside country market, and food company located in Long Island, New York.
The New York Times named Kerber s Farm as having one of the top lobster rolls in New York.
Kerber s has been recognized as one of the New York area s top locations for homemade pies, savory meals, and tasty treats.
Favorite recipes from each season are sure to please.
Experience and taste the seasons of the farm through 200 beautiful photographs of and more than 50 recipes covering everything from famous baked goods biscuits to pies to entrees, soups and salads, and even homemade and healthy dog treats.
Captivating vignettes teach about planting organic seedlings, harvesting vegetables, raising hens for fresh eggs, and caring for honeybees that support the farm s ecosystem.
Kerber s Farm will be opening a farming education school in 2020 to teach children the importance of sustainability and healthy eating habits.
BIC: