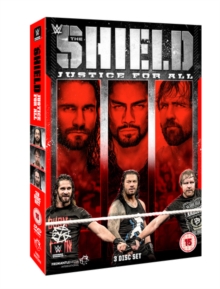 WWE: The Shield - Justice for All
(15) Suitable for 15 years and over.
Collection of highlights, footage and matches containing the WWE trio The Shield, consisting of Dean Ambrose, Roman Reigns and Seth Rollins.
The featured matches include the Money in the Bank ladder match in 2016 with Dean Ambrose Vs Alberto Del Rio Vs Cesaro Vs Chris Jericho Vs Kevin Owens Vs Sami Zayn, the Survivor Series match in 2017 with The Shield VS The New Day and the No Holds Barred match at WrestleMania 33 in 2017 with Roman Reigns Vs The Undertaker plus many more.