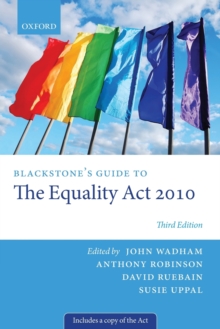 Blackstone's guide to the Equality Act 2010 (Third edition)
0198793316 / 9780198793311
The Equality Act 2010 was an extremely significant reform of UK discrimination law, consolidating the existing mass of statutory provisions into one statute.
The Act brought new rights against discrimination and imposed new duties on employers, service providers, and public authorities, and also introduced a new socio-economic duty on public authorities to reduce the inequalities of outcome which result from socio-economic disadvantage.
It defined nine protectedcharacteristics: age, disability, combined grounds, gender reassignment, marriage and civil partnership, race, religion or belief, sex, and sexual orientation.
This fully revised edition of Blackstone's Guide to the Equality Act 2010 covers all recent developments in the law relating to the Equality Act 2010.
Combining the full text of the Act, as amended, with narrative from an expert team, the book is an invaluable resource for all who encounter the evolving legislation. The Blackstone's Guide Series delivers concise and accessible books covering the latest legislative changes and amendments.
Published soon after enactment, they offer expert commentary by leading names on the extent, scope, and effects of the legislation, plus a full copy of the Act itself.
They offer a cost-effective solution to key information needs and are the perfect companion for any practitioner needing to get up to speed with the latest changes.
BIC:
1DBK United Kingdom, Great Britain, LNDA Citizenship & nationality law, LNH Employment & labour law, LNT Social law
Title Unavailable: Out of Print