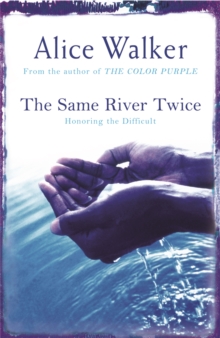 The same river twice : honoring the difficult
0753819597 / 9780753819593
Stock expected by 24/11/2019
Reprint. Originally published: U.S.: Scribner; London: Women's, 1996.
'This legendary writer, who with her pen has changed lives and moved minds across national, racial and sexual boundaries' Pride 'To win a Pulitzer prize, have a novel filmed by Steven Spielberg, become a fixture in the New York Times bestseller list and sell millions of copies - it sounds like a writer's impossible dream. In this book, Walker looks back at what was really happening to her at that time'f' Margaret Busby, Sunday Times 'An evocative, intriguing book about her life; it is also about bravery and love, racial discrimination and politics...also a book about Hollywood and the making o
In the early 1980s, The Color Purple was a runaway success, it had won the Pulitzer Prize and Steven Spielberg was making the book into a film.Yet behind all the critical success, Alice Walker suffered an extreme backlash as she became the object of attacks both personal and political.Her detractors claimed that she hated black men, that her work was injurious to black male and female relationships; and that her ideas about equality were harmful to the black community.
Such was the ferocity of these attacks that she left her own community north of San Francisco and sought refuge in Mexico.On a personal level, her mother had suffered a major stroke and now Alice Walker herself fell gravely ill with the extremely debilitating condition, Lyme disease.
To add to the trauma, her partner of many years announced he'd been having an affair.In her heartfelt and extremely personal account of this time, Alice Walker describes the experience of watching the film being made as she weathered the controversy surrounding it and came to terms with the changes in her own life.
BIC:
1KBB USA, 2AB English, BGA Autobiography: general, DSBH Literary studies: from c 1900 -, DSK Literary studies: fiction, novelists & prose writers