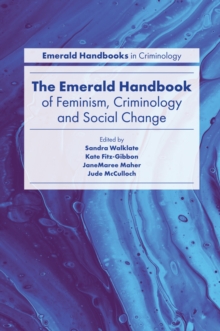 The Emerald handbook of feminism, criminology and social change
1787699560 / 9781787699564
The Emerald Handbook of Criminology, Feminism and Social Change combines a wide range of international contributors to chart the uneasy relationship between feminism, criminology and victimology.
It explores historical and contemporary questions posed for criminology and victimology by feminist work.
The book is split into four sections which introduce the origins of feminist criminology; explore research beyond the northern hemisphere; extend the criminological agenda; and look to the future relationship between feminism and criminology.
Comprehensive and current, this handbook provides fresh insight and commentary on the capacity of criminology to listen to feminist voices and is essential reading for anyone interested in feminism, criminology and social change.
BIC: