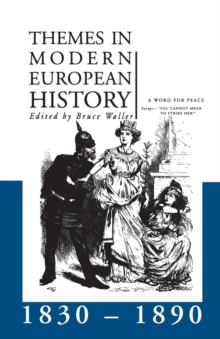 Themes in modern European history 1830-90
041509075X / 9780415090759
Usually dispatched within 4 weeks
Reprint. Originally published: London: Unwin Hyman, 1990.
This important new text provides an authoritative student guide to the main contours of nineteenth-century European history when the continent's standing was at its highest and its influence spanned the globe.
These decades are treated here by six distinguished scholars all of whom are regularly involved in student teaching.
The book: provides a series of lively essays which reflect the skills that historians have to master when challenged by problems of evidence, interpretation, and presentation. covers the topics of France, Germany, Italy, Austria, and Russia, as well as analyzing the themes of political thought, cultural trends, the economy and warfare, international relations and imperialism.
Roger Price, University of East Anglia, B. A. Haddock, University College of Swansea, Bruce Waller, University College of Swansea , Alan Sked, London School of Economics, Edward Acton, University of
BIC:
1D Europe, 3JH c 1800 to c 1900, HBJD European history, HBLL Modern history to 20th century: c 1700 to c 1900