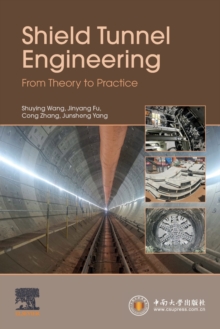 Shield tunnel engineering : from theory to practice
0128239921 / 9780128239926
23 cm 210 pages : illustrations (black and white, and colour)
Shield Tunnel Engineering: From Theory to Practice is a key technique that offers one of the most important ways to build tunnels in fast, relatively safe, and ecologically friendly ways.
The book presents state-of-the-art solutions for engineers working within the field of shield tunnelling technology for railways.
It includes expertise from major projects in shield tunnel construction for high-speed rail, subways and other major projects.
In particular, it presents a series of advances in shield muck conditioning technology, slurry treatment, backfill grouting, and environmental impact and control.
In this volume, foundational knowledge is combined with the latest advances in shield tunnel engineering. Twelve chapters cover key areas including geological investigation, the types, structures and workings of shield machines, selecting a machine, shield segment design, shield tunnelling parameter control, soil conditioning for earth pressure balance (EPB) shield tunnelling, shield slurry treatment, backfill grouting, environmental impact, and problems in shield tunnel structures and their amelioration.
This book presents the essential knowledge needed for shield tunnel engineering, the latest advances in the field, and practical guidance for engineers.
BIC: