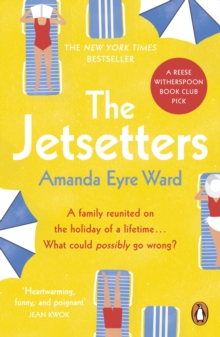 The jetsetters
0241491320 / 9780241491324
A family reunited on a holiday of a lifetime . . . what could possibly go wrong?A NEW YORK TIMES BESTSELLERA 2020 REESE WITHERSPOON HELLO SUNSHINE BOOK CLUB PICKWhen Charlotte Perkins enters the 'Become a Jetsetter' contest, she dreams of reuniting her estranged children: Lee, an almost-famous actress; Cord, a handsome Manhattan venture capitalist; and Regan, a harried mother who has never got over Charlotte's gift of a Weight Watchers voucher for her birthday. But when she wins that once in a lifetime trip, all doesn't exactly go to plan... As long-buried secrets are revealed, and lovers new and old appear, can these four lost adults find their way back to each other?And more importantly, can they do it without killing each other?A hilarious and deliciously sun-scented novel about the courage it takes to reveal our true selves and the pleasures and perils of family. __________________________________WHAT READERS ARE SAYING ABOUT THE JETSETTERS'This is the novel I never realized I absolutely needed!
The Jetsetters had me from the very first page!' Amazon Reader'Funny, yet sensitive and heartbreaking all at the same time.
We can all identify with family crisis of some sort. And as we would in our own family, we root for them all, feel their pain and embarrassment, and hope they can put their baggage away and become better people and a new family' Amazon Reader'What could possibly go wrong on a family cruise?
Anything and everything. Funny and a little heart wrenching with characters that will be hard to forget.
Happy reading!' Amazon Reader'Ms. Ward writes at a lively pace as she weaves through the Perkins' trials and tribulations.
For any fan of a well-written story that resonates with the reader long after you finish the final page, I highly recommend this book' Amazon Reader'Amanda Eyre Ward creates a great escape.
The Perkins family are all a hot mess that you can't help but watch' Amazon Reader
BIC:
1DS Southern Europe, 1K The Americas, FA Modern & contemporary fiction (post c 1945), FRD Adult & contemporary romance