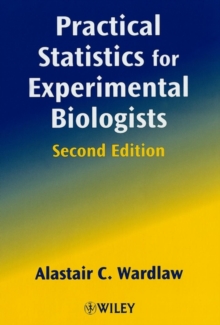 Practical statistics for experimental biologists (2nd ed)
0471988227 / 9780471988229
Stock expected by 05/04/2020
postgraduate Learn More
research & professional
undergraduate
A good working knowledge of statistical principles is needed for both the design and analysis of biological experiments and the subsequent handling of the large amounts of data generated if worthwhile, reliable conclusions are to be reached.
Practical Statistics for Experimental Biologists, Second Edition provides biologists with a user-friendly, non-technical introduction to the basics of statistics.
The book has been thoroughly revised and updated to incorporate: Worked examples and printouts from MINITAB Relevant case studies and applications Further Notes section for background explanations Written by a biologist with extensive experience of applying statistical procedures to experimental systems, this book will be invaluable to undergraduates, postgraduates and researchers in microbiology, immunology, biochemistry, botany, zoology, physiology, pharmacology and pharmacy.
Review of the First Edition "...strongly recommended as the current first choice both for students and established research workers." Society for General Microbiology Quarterly "...the book is refreshingly free from jargon, is well illustrated and is to be recommended."Trends in Biochemical Sciences "It is written in an easy style, and can be thoroughly recommended..." Trends in Pharmacological Sciences
BIC:
PBWL Stochastics, PDN Scientific equipment, experiments & techniques, PS Biology, life sciences