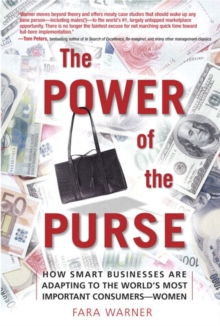 The Power of the Purse (paperback) : How Smart Businesses Are Adapting to the World's Most Important Consumers-Women
013705369X / 9780137053698
152 x 229 mm, 345 grams 248 pages
Women now drive some 80% of all buying decisions. By 2010, they'll account for half of America's private wealth: $13 trillion dollars.
A few remarkable companies have learned how to refocus on women -- and, in so doing, have achieved truly stunning results.
In The Power of the Purse, top journalist Fara Warner takes you behind the scenes at those companies, revealing how they did it -- and how you can, too.
Unlike previous books on marketing to women, this one doesn't settle for generalities: it offers in-depth, start-to-finish case studies.
Discover how McDonald's turned around its business by recognizing women as full-fledged consumers, not just 'Moms.' Learn how Kodak's digital camera business soared from fourth to first by recognizing women's importance as family 'memory makers'.
See how P G built Swiffer into a cultural revolution, and how the diamond industry did the same for right-hand rings.
Watch Bratz topple Barbie, Torrid create its enormously successful plus-size stores for teenagers, and Avon connect with a radically new generation of women.
From Nike to Home Depot, each story is unique -- but in every case, these companies put women at the center of their strategies, and listened intently to what real women consumers were telling them.
It's not about 'painting your products pink': it's about transforming the way you think about women.
Do that, and you'll create products that sell better to everyone.
BIC:
KJP Business communication & presentation, KJS Sales & marketing, YQV Educational: Business studies & economics