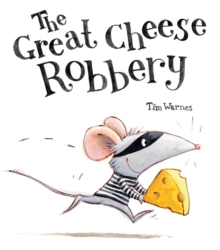 The great cheese robbery
1848690533 / 9781848690530
28 cm 24 unnumbered pages : chiefly illustrations (colour)
Reprint. Originally published: 2015.
Patrick Elephant is scared of lots of things, like the dark and the fluff under the sofa.
His daddy isn't scared of anything - except mice! So when a mouse posing as a cheese inspector tries to steal the elephants' cheese, Daddy is too terrified to stop him!
Can little Patrick Elephant save the cheese - and his father?
A hilarious new tale from Tim Warnes (Dangerous!, Monty and Milli - The Totally Amazing Magic Trick).
The Great Cheese Robbery is the perfect book for kids dealing with phobias.
Warnes' fresh and quirky illustrations and mischievous mice will captivate young readers.
A fantastically funny story that parents won't mind reading again and again . . . and again!
BIC: