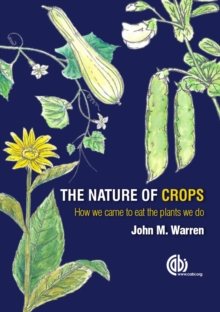 The nature of crops : how we came to eat the plants we do
1780645090 / 9781780645094
Professional & Vocational Learn More
Tertiary Education (US: College)
Have you ever wondered why we eat wheat, rice, potatoes and cassava?
Why we routinely domesticate foodstuffs with the power to kill us, or why we chose almonds over acorns?
Answering all these questions and more in a readable and friendly style, this book takes you on a journey through our history with crop plants.
Arranged into recurrent themes in plant domestication, this book documents the history and biology of over 50 crops, including cereals, spices, legumes, fruits and cash crops such as chocolate, tobacco and rubber.
In The Nature of Crops John Warren reveals: -Why the Egyptians worshipped onions; -Why red-flowering runner beans provide fewer beans than white-flowering; -The inherent dangers of being a pineapple worker; and -Why a bird will always beat you in a chilli pepper eating competition!
BIC: