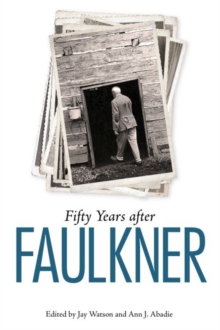 Fifty years after Faulkner
1496803965 / 9781496803962
Usually dispatched within 4 weeks
23 cm 336 pages : illustrations (black and white)
Postgraduate, Research & Scholarly Learn More
Undergraduate
These essays examine issues across the wide arc of Faulkner's extraordinary career, from his aesthetic apprenticeship in the visual arts, to late-career engagements with the Cold War, the civil rights movement, and beyond, to the place of death in his artistic vision and the long, varied afterlives he and his writings have enjoyed in literature and popular culture.
Contributors deliver stimulating reassessments of Faulkner's first novel, Soldiers' Pay; his final novel, The Reivers; and much of the important work between.
Scholars explore how a broad range of elite and lowbrow cultural forms--plantation diaries, phonograph records, pulp magazines--shaped Faulkner's capacious imagination and how his works were translated into such media as film and modern dance.
Essays place Faulkner's writings in dialogue with those of such fellow twentieth-century authors as W.
E. B. Du Bois, Ernest Hemingway, Richard Hall, and Jayne Anne Phillips; locate his work in relation to African American intellectual currents and Global South artistic traditions; and weigh the rewards as well as the risks of dislodging Faulkner from the canonical position he currently occupies. While Faulkner studies has cultivated an image of the novelist as a neglected genius who toiled in obscurity, a look back fifty years to the final months of the author's life reveals a widely traveled and celebrated artist whose significance was framed in national and international as well as regional terms.
Fifty Years after Faulkner bears out that expansive view, reintroducing us to a writer whose work retains its ability to provoke, intrigue, and surprise a variety of readerships.
BIC:
1KBB USA, 2AB English, DSBH Literary studies: from c 1900 -, DSK Literary studies: fiction, novelists & prose writers