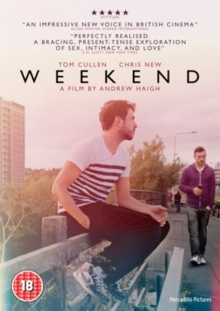 (18) Suitable for 18 years and over.
British drama, set in Nottingham, about two gay men whose one night stand turns into something deeper.
After spending Friday night drinking with his straight friends, Russell (Tom Cullen) heads out to a gay club in search of sex.
There he meets Glen (Chris New), and the two go home together.
But what both men expected to be a one-night stand turns into a more powerful connection as they go on to spend the rest of weekend talking, drinking, having sex, laughing and sleeping together.
However, with Glen set to relocate to the US on Monday, the two must now decide if their liaison will endure.
Interviews: Andrew Haigh (Director), Tristan Goligher (Producer), Cast