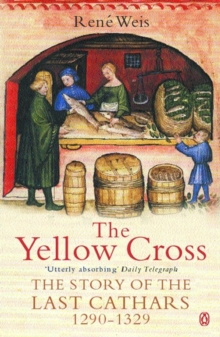 The yellow cross : the story of the last Cathars, 1290-1329
0140276696 / 9780140276695
Usually dispatched within 4 weeks
20 cm lv, 453p., [16]p. of plates : ill. (chiefly col.)
Reprint. Originally published: London: Viking, 2000.
In the 13th century, a group of heretics in southwest France, the Cathars, became a serious threat to the Catholic church.
In several waves of repression, thousands of Cathars were killed.
Yet so ardent was their faith that, early in the next century, the Cathars rose one last time.
Using the breathtakingly detailed and uniquely extant documentation from this period, and drawing on his intimate knowledge of the last Cathars' tracks and hiding places, many of which survive to this day, Rene Weis tells the full story of this gripping historical episode.
BIC:
1D Europe, 3H c 1000 CE to c 1500, HBJD European history, HBLC Early history: c 500 to c 1450/1500, HRAM7 Blasphemy, heresy, apostasy, HRCC7 Roman Catholicism, Roman Catholic Church