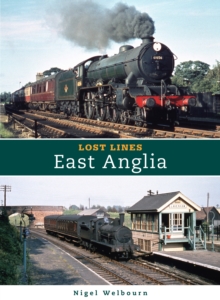 0711037485 / 9780711037489
Usually dispatched within 2 weeks
24 cm 128 pages : illustrations (black and white, and colour)
The lost lines of East Anglia are as distinctive as the area itself.
They were particularly dependent on agricultural freight, which for generations had been the main activity in the region.
They served many remote rural backwaters that were unlikely to ever provide revenues matching those of railways in the industrialised regions of the country.
Even the industries served were largely connected with agriculture and the GER was sometimes called 'The Sweedy'. There was also heavy summer tourism to and from the east coast resorts.
At its zenith every town of any size in East Anglia was served by the railway network.
The GER was particularly dominant in the area, but a number of other railways were also to be found, in particular the long tentacles of the M&GN. Some rationalisations were made when the LNER took over in 1923, but the overall network remained largely intact.
Nationalisation in 1948 saw the creation of the Eastern Region of BR.
A growing number of branches lost their passenger services, but at first the majority of lines survived.
Nonetheless rail traffic was increasingly being lost to the roads. With mounting losses, almost the entire ex-M&GN network was closed in 1959 - a bitter foretaste of what was to follow. The infamous Beeching Report of 1963 was to recommend wholesale closures.
Recognising that irrevocable change was on the way, the railways of East Anglia have been recorded by your author for over 50 years.
The book examines the decline culminating in closure, which has left huge rural areas of East Anglia without any railway services, but equally providing a fascinating legacy of lost railway remains.
BIC: