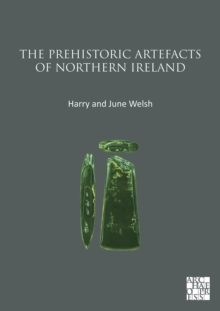 The prehistoric artefacts of Northern Ireland
1789699533 / 9781789699531
Usually dispatched within 4 weeks
30 cm 364 pages : illustrations, maps
The Prehistoric Artefacts of Northern Ireland is the last in a trilogy of monographs, designed to provide a baseline survey of the prehistoric sites of Northern Ireland.
The first monograph investigated prehistoric burial sites (Archaeopress 2014) and the second explored the sites of prehistoric life (Archaeopress 2018).
Following the same format as its predecessors, this monograph considers the prehistoric artefacts that have been found in Northern Ireland.
It begins with an overview of the current political landscape of Ireland, as the creation of two states in 1921 and the establishment of administrative systems unique to each jurisdiction have had profound consequences for Irish archaeology.
It continues by providing background information on the history of prehistoric archaeology, an explanation of the classifications and methodology employed and a detailed inventory of sites in Northern Ireland where prehistoric artefacts have been found.
Also included is a discussion about these artefacts in a wider context, illustrated with tables and distribution maps, a glossary, tables of radiocarbon dates and an extensive bibliography.
The aim once again is to not only provide a basis for further research, but also to stimulate local interest in the prehistory of Northern Ireland and encourage others from further afield to appreciate the quality and diversity of its prehistoric landscape.
BIC:
1DBKN Northern Ireland, 3B Prehistory, HDDA Prehistoric archaeology