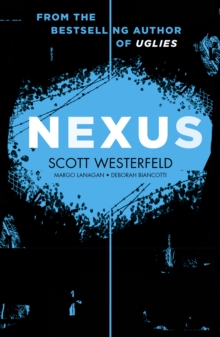 Nexus
1471124932 / 9781471124938
Originally published: New York: Simon Pulse.
The third and final book in this explosive trilogy by the bestselling author of the UGLIES series, Scott Westerfeld, and award-winning authors Margo Lanagan and Deborah Biancotti The Zeroes are in disarray. One of them has vanished into thin air. One of them is in prison. The rest of them are on the most-wanted list. And something big is brewing. After defeating Swarm in a breath-taking stand-off, Nate has been arrested for his murder.
In prison and isolated, he can't use his powers of influence at all.
Flicker, Chizara, Kelsie and Ethan are on the run and in hiding from the FBI who believe the Cambria Five are domestic terrorists. And Agent Phan and the FBI have a secret weapon up their sleeve - a teenager with a superpower that the Zeroes haven't encountered yet. Meanwhile, Sonia Sonic and her growing band of weird-hunters are tracking inexplicable events across the country - and their investigations lead them to New Orleans during Mardi Gras, where the celebrating crowds promise enormous power to anyone who can channel it.
Time is running out for the Zeroes, but they must learn to trust each other again and combine their powers for good - to avert the looming disaster... X-Men meets Heroes in this gripping series about a group of teens with amazing abilities. Praise for Zeroes: 'With action, romance, and thorny ethical questions, it's a book with a little something for everyone' Publishers Weekly 'Fresh and original' School Libraries Journal starred review 'I absolutely loved this book.
Fast paced, full of action and fun, this is one not to be missed' Heather Reviews
BIC: