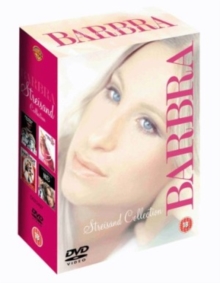 What's Up Doc?/Up the Sandbox/Nuts/The Main Event
Dutch, English, French, Arabic
(18) Suitable for 18 years and over.
Barbra Streisand box set. In Peter Bogdanovich's screwball comedy 'What's Up Doc?' (1972) Streisand stars as Judy Maxwell, a carefree young lady who becomes involved with earnest music theorist Professor Howard Bannister (Ryan O'Neal).
When Bannister's plaid suitcase, containing geological specimens, is confused for an identical case containing diamonds, a madcap chase across San Francisco ensues - with gangsters attempting to steal back the jewels!
In 'Up The Sandbox' (1972) Streisand stars as Margaret Reynolds, a young New York wife and mother with an active fantasy life.
As she grows increasingly estranged from her husband (David Selby), she fills her days with various daydreams, including one in which she joins terrorists in an attack upon the Statue of Liberty.
In 'Nuts' (1987) high-class prostitute Streisand is arrested and charged with the murder of one of her clients; her parents want her committed rather than face a public trial, but the feisty woman has other ideas in this courtroom drama.
Richard Dreyfuss plays the lawyer who works with her to ensure she gets a fair trial.
In 'The Main Event' (1979) Streisand is a businesswoman on the brink of ruin.
Her one asset is a boxer, played by Ryan O'Neal, who is close to retirement.
She decides to personally manage the boxer so that she can manipulate him into making a comeback, and with the money she makes she reckons she can save her perfume business.