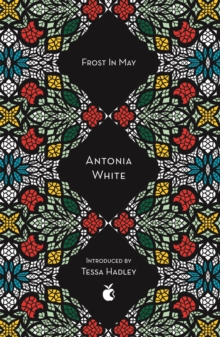 Frost in May
0349010285 / 9780349010281
Reprint. Originally published: London: Desmond Harmsworth, 1933.
'Frost in May is the unsurpassed novel of convent school life.
This story of a clash between a determined young girl and an authoritarian regime is both perceptive and painfully emotional, convincing in every detail' - Hermione Lee, ObserverWith a new introduction by Tessa HadleyNanda Gray, the daughter of a Catholic convert, is nine when she is sent to the Convent of Five Wounds.
Quick-witted, resilient and eager to please, she accepts this closed world where, with all the enthusiasm of the outsider, her desires and passions become only those the school permits.
Her only deviation from total obedience is the passionate friendships she makes. Convent life is perfectly captured - the smell of beeswax and incense; the petty cruelties of the nuns; the eccentricities of Nanda's school friends. Books in the VMC 40th anniversary series include: Frost in May by Antonia White; The Collected Stories of Grace Paley; Fire from Heaven by Mary Renault; The Magic Toyshop by Angela Carter; The Weather in the Streets by Rosamond Lehmann; Deep Water by Patricia Highsmith; The Return of the Soldier by Rebecca West; Their Eyes Were Watching God by Zora Neale Hurston; Heartburn by Nora Ephron; The Dud Avocado by Elaine Dundy; Memento Mori by Muriel Spark; A View of the Harbour by Elizabeth Taylor and Faces in the Water by Janet Frame
BIC:
FA Modern & contemporary fiction (post c 1945), FW Religious & spiritual fiction