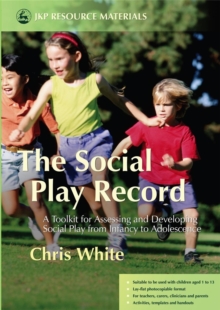 The social play record : a toolkit for assessing and developing social play from infancy to adolescence
1843104008 / 9781843104001
Stock expected by 29/10/2021
Social play is about relating to others, playing and making friends - all of which are key elements for social inclusion, adjustment and well-being. "The Social Play Record" is a practical resource for assessing and developing social play in children with autistic spectrum disorders (ASDs) or difficulties with social interaction.
This toolkit is designed to be used collaboratively with children, parents, carers and practitioners.
It is suitable for assessing children of all learning abilities and stages of development, from early infancy to adolescence, and includes photocopiable assessment and intervention materials.
The toolkit is divided into user-friendly sections, including: a guidance section, which also gives information on what constitutes social play, its significance, development and how to address social interaction difficulties; an assessment section for recording stages of social play and key abilities, such as independent and peer play, friendship and advanced group skills; an intervention section, which gives step-by-step directions for developing key social play skills. Parents, teachers and professionals working with or caring for a child with social interaction difficulties will find this toolkit an essential assessment resource.
BIC: