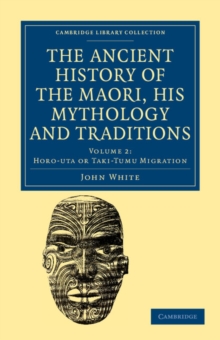 The Ancient History of the Maori, his Mythology and Traditions
110803960X / 9781108039604
Usually dispatched within 4 weeks
140 x 216 mm, 510 grams 400 pages, 6 Plates, black and white
First published between 1887 and 1890, this six-volume work, containing Maori texts with English translations and commentary, and engraved illustrations, was one of the first printed records of the oral traditions of the Maori.
The project was commissioned by the New Zealand government in 1879 when it was observed that, due to the introduction of European culture and education, indigenous traditions were in danger of dying out.
The material was collected by John White (1826-91), an ethnographer, public servant and writer who had arrived in New Zealand as a boy and first began documenting Maori poetry in the 1840s.
Volume 2, published in 1887, focuses on narratives including Rona and the Moon, the many exploits of the hero Maui, and the myths of the original canoes, as well as songs, chants and invocations.
BIC:
HBLA Ancient history: to c 500 CE, JFHF Folklore, myths & legends, JHBT Sociology: customs & traditions, JHMC Social & cultural anthropology, ethnography