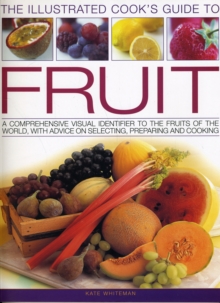 The illustrated cook's guide to fruit : a comprehensive visual identifier to the fruits of the world, with advice on selecting, preparing and cooking
1844768694 / 9781844768691
Stock expected by 04/03/2020
Reprint. Originally published: as The new guide to fruit. London: Hermes House, 1999.
This is a comprehensive visual identifier to the fruits of the world with advice on selecting, preparing and cooking.
It features a full-colour photographic identification guide to fruits, packed with information about their history, varieties, nutritional value, buying, and storing.
It includes step-by-step instructions on how to prepare, preserve and cook all kinds of fruits.
It is the only reference book on identifying, preparing, preserving and cooking with fruit that you will ever need.
This exciting book is a comprehensive, authoritative guide to the fruits of the world and how to use them in the kitchen.
It begins with a fascinating introduction, including an illustrated step-by-step guide to preparing, juicing, preserving and cooking with fruit as well as a pictorial guide to equipment and useful techniques.
The full-colour reference guide and identifier then goes on to give information about all the common, less well-known and exotic fruits.
Facts are given about how and where the fruit is grown alongside essential information on buying, storing, preparing, cooking with and preserving each one.
This is the definitive reference guide to the fruits of the world.
BIC: