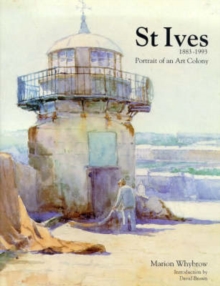 St Ives, 1883-1993 : portrait of an art colony
1851491708 / 9781851491704
Usually dispatched within 2 weeks
28 cm 236p. : ill. (some col.)
further/higher education Learn More
general
research & professional
undergraduate
Reprint. Text on inside cover.
Major artists, past and present, such as Lanyon, Heron, Nicholson, Mitchell, Hepworth, Frost, Gabo, Barns-Graham, Leach and Hamada came to live in St Ives and recognised a unique creative environment which stimulated their ideas.
In the 1880s an artists' colony flourished there, equivalent to the European mode for painting "en plein air" in colonies such as Point Aven and Concarneau.
Old sail lofts, fish cellars and cottages were converted into studios and skylights appeared everywhere among the grey roofs of the old town.
As the European artists' colonies faded into history this Cornish town continued to attract artists and writers worldwide through the establishment of the St Ives Club.
In 1927 the St Ives Society of Artists was founded to cater for an increasing influx of painters and in 1949 the Penwith Society of Arts firmly established St Ives as a world centre for modern art.
These societies continue to co-exist and, in this book, Marion Whybrow has written them into history and brought to light hundreds of painters, sculptors and writers who made St Ives their hone and created works of art there for more than a century. She highlights the traditionalists, the representational, and the more progressive painters, with numerous illustrations of their work.
This book records, in depth, the development of art history in a small town which ranks with any city boasting a permanent place in the field of visual arts.
BIC:
1DBKE England, 3JH c 1800 to c 1900, 3JJ 20th century, ACV History of art & design styles: c 1800 to c 1900, ACX History of art & design styles: from c 1900 -, AFC Painting & paintings, DSBF Literary studies: c 1800 to c 1900 , DSBH Literary studies: from c 1900 -
* Variable discounts between 0% and 15% are applied to items where BBfS cannot determine exact discounts from suppliers.