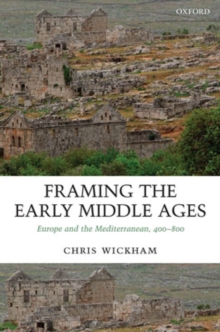 Framing the early Middle Ages : Europe and the Mediterranean, 400-800
0199212961 / 9780199212965
general Learn More
postgraduate
research & professional
undergraduate
Reprint. Originally published: 2005.
The Roman empire tends to be seen as a whole whereas the early middle ages tends to be seen as a collection of regional histories, roughly corresponding to the land-areas of modern nation states.
As a result, early medieval history is much more fragmented, and there have been few convincing syntheses of socio-economic change in the post-Roman world since the 1930s.
In recent decades, the rise of early medieval archaeology has also transformed our source-base, but this has not been adequately integrated into analyses of documentary history in almost any country.
In Framing the Early Middle Ages Chris Wickham combines documentary and archaeological evidence to create a comparative history of the period 400-800.
His analysis embraces each of the regions of the late Roman and immediately post-Roman world, from Denmark to Egypt.
The book concentrates on classic socio-economic themes, state finance, the wealth and identity of the aristocracy, estate management, peasant society, rural settlement, cities, and exchange.
These give only a partial picture of the period, but they frame and explain other developments. Earlier syntheses have taken the development of a single region as 'typical', with divergent developments presented as exceptions.
This book takes all different developments as typical, and aims to construct a synthesis based on a better understanding of difference and the reasons for it.
BIC:
1D Europe, 1FB Middle East, 3D BCE to c 500 CE, 3F c 500 CE to c 1000 CE, HBG General & world history, HBJD European history, HBLA Ancient history: to c 500 CE, HBLC Early history: c 500 to c 1450/1500, HBTB Social & cultural history, KCZ Economic history
Prizes:
W 2006 Wolfson Literary Award for History